Best Hotels in Sherpur (List of 2023)
Are you seeking for hotels in sherpur or seeking information to stay in Bogra – sherpur ? Yes you are right point . Motel guys have made an article about top hotels list Sherpur 2023 based on their position , staff behavior and cleanliness.
Check Also : Best Hotels in Sajek Valley
Hotels in sherpur
Sherpur district is a district in Northern Bangladesh. It is a part of Mymensingh Division. Sherpur district was a sub-division of Jamalpur District before 1984. It was upgraded to a district on February 22, 1984. Sherpur City is located about 197–199 kilometres north of Dhaka, capital of Bangladesh.
Check Also : Best Hotels in Comilla City
Hotel List in Sherpur City
Hotel Sampad
Hotel Grand Safeer
Hotel Raiyan Int
Hotel Rowshon Int
Hotel Sundarban International
Best Hotels in Sherpur
Hotel Sampad- Top Hotel in Sherpur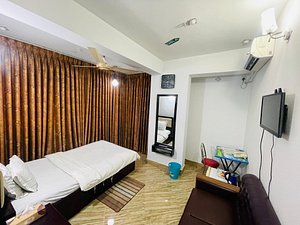 Hotel Sampad is one of the top rated hotel in sherpur city located at center city,This is one of the most premium hotels in sherpur to stay in. If you are looking for a quality abashik hotel in sherpur than Hotel Sampad is the best option for you.It has a total 250 rooms with AC SIngle , AC Double , Semi VIp and vip suite .
Address: 2279+X2F, Sherpur – Nakla Hwy, Sherpur 2100, Bangladesh
Check Also : Best Hotels in Natore
Hotel Grand Safeer – 3 Star Hotel
Hotel Grand safeer is another top rated hotel in Sherour city located at centre of sherpur(station bazar) , This is also known as best hotel in sherpur because of its popularity and cleanliness . It has both ac and non ac rooms ,Hotel Grand safeer room prices start from 1200 Tk to 4000 TK.
Check Also : Best Hotels in Khagrachari
Adress: Rahima plaza, Tomaltola, 2000
Call: 01403-168950
Check Also : Best Hotels in Nilphamari